The 8th Edition of Granfondo Serra da Estrela will take place on June 25th, 2023
Manteigas -› Seia -› Alto das Penhas Douradas -› Manteigas 
Granfondo  171 Km (149 km + 22 km) 
Mediofondo  119 km (97 km + 22 km)
Granfondo  4.500m (d+)
Mediofondo  3.100m (d+)
Your participant kit includes the Official GF Serra da Estrela 2023 T-Shirt.
Serra da Estrela Granfondo, standing out from all the other Granfondos organised in our country, with the celebration of a cycling party for all, in the only high mountain scenery in Portugal, pays a special tribute to the passion for high mountain stages and to the great climbers. The 2023 Official Jersey is a tribute to classic jerseys.
The Official Jersey GF Serra da Estrela 2023 is a high-end piece, produced by GOBIK and is included in the Premium Registration
Partida - 08h30
Manteigas
Chegada - 17h00
Manteigas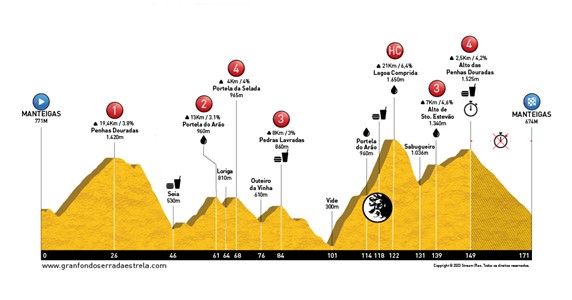 Mediofondo
>
25 June 2023
Partida - 08h30
Manteigas
Chegada - 14h00
Manteigas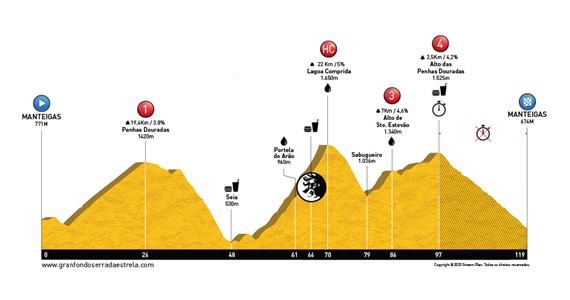 LUÍS FERNANDES SHARE HIS EXPERIENCE OF CLIMBING TO "THE TOWER" WITH US
Luís Fernandes has been a professional cyclist since 2012, currently working for the UCI Team Continental Radio Popular Paredes Boavista.
Over the years, he played for several national teams, but until he became a professional, he was Youth, Cadet and Junior, at the Clube de Cyclismo da Aldeia de Paio Pires, a club dedicated to training young cyclists, based in the parish of Seixal.
In 2022, he had his best Tour of Portugal ever, finishing in 4th place in the General Classification, being the 1st athlete not belonging to the team that dominated the Tour, Glassdrive/Q8/Anicolor, a team that occupied the top 3 places in the general classification .
In addition to 4th place in the General Classification, he finished the queen stage of Torre in 2nd place, best Portuguese Athlete, in full sprint with Mauricio Moreira, the athlete who would end up winning the General Classification.